In Memory
Aime Ellis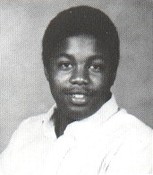 Influental English professor dies of cancer at 39
Ellis
To his colleagues, friends and students, Aimé Ellis was an ambitious, intelligent, kindhearted and creative man, with a knack for engaging his students and challenging their preconceived notions of the world.
The 39-year-old MSU associate professor of English, who joined MSU's faculty in 2002, died Tuesday of cancer. He is survived by his wife, Amanda Ellis.
"He was incredibly dynamic, vibrant and one of those folks that the moment you meet him, you know he's going to change your life," Ellis' sister-in-law Ashley York said.
"He just had such an ability to help people see the world for what it is."
Salah Hassan, an associate professor of English who worked with Ellis, said it will be difficult for the university to fill the gap left by Ellis' passing.
"He was a great musician, great scholar (and) great teacher," Hassan said. "This is a monumental loss for MSU."
Hassan attended graduate school with Ellis at the University of Texas and befriended him said Ellis was particularly gifted in effectively approaching multiple academic projects in tandem.
Ellis' work at MSU encompassed racial, gender and popular culture issues.
He also wrote a book, "If We Must Die: From Bigger Thomas to Biggie Smalls," which explored several themes in 20th century African-American literature and will be published in the next year, Hassan said.
"What was unique about him was his ability to engage in many different kinds of projects at the same time and do them all with a great deal of effectiveness," Hassan said.
"His work was really important in terms of addressing the history of racial politics and racial violence."
MSU alumna Katie Neill first met Ellis in 2005 during an English literature study abroad program in London.
She said she knew she would like Ellis before she even met him.
"He sent his students a list of music to listen to before we left and (would) bring with us," Neill said via e-mail.
"It was a very diverse list, allowing us to taste some of London's past and present through song before we got there."
Neill said the study abroad program allowed Ellis to connect with his students on a more personal level, and he eventually became their friend.
"He was an inspirational teacher, not only in the study of literature, but in the study of experience, life and culture," she said. "It is truly a tragedy that his life was ended so soon."
A memorial service was held Friday at Alumni Memorial Chapel.
Published on Sunday, May 31, 2009
Aime Ellis 39, of Lansing, Michigan State University Department of English associate professor, died May 26, 2009 of natural causes.

He is survived by his wife, Amanda York, to whom he was married on Feb. 27, 2009.

Amanda's sister made this beautiful video that was shown at the wedding party on May 24, 2009:
https://www.youtube.com/watch?v=kUv81DIzVRQ

Here also is a compilation of photos from that party:
https://www.youtube.com/watch?v=U34YPacptmc
www.facebook.com/people/Aime-Ellis/2366644#/profile.php